Thursday, the 30th of November from 5 to 7 pm CET via Zoom.
"Care and Belonging in Ambiguity: Homemaking Practices of Syrian Families in Turkey"
by Begüm Ergün, Boston University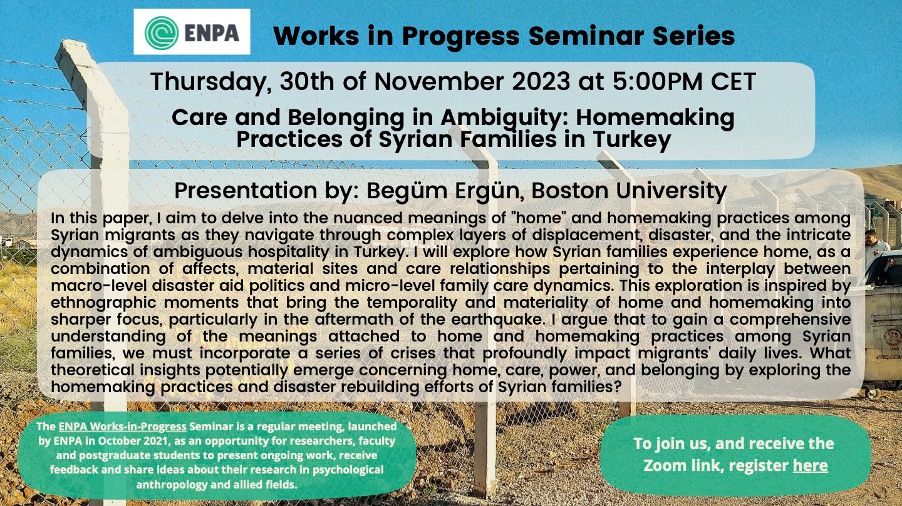 In this paper, I aim to delve into the nuanced meanings of "home" and homemaking practices among Syrian migrants as they navigate through complex layers of displacement, disaster, and the intricate dynamics of ambiguous hospitality in Turkey. I will explore how Syrian families experience home, as a combination of affects, material sites and care relationships pertaining to the interplay between macro-level disaster aid politics and micro-level family care dynamics. This exploration is inspired by ethnographic moments that bring the temporality and materiality of home and homemaking into sharper focus, particularly in the aftermath of the earthquake. I argue that to gain a comprehensive understanding of the meanings attached to home and homemaking practices among Syrian families, we must incorporate a series of crises that profoundly impact migrants' daily lives. What theoretical insights potentially emerge concerning home, care, power, and belonging by exploring the homemaking practices and disaster rebuilding efforts of Syrian families? 
The ENPA Works-in-Progress Seminar is a venue for researchers, faculty and postgraduate students to present ongoing work, receive feedback and share ideas about their research in psychological anthropology and allied fields.
The seminar meets monthly via Zoom.
To join ENPA WiPS and receive the link for the seminar, please register here.