Thursday, the 26th of October from 5 to 7 pm CET via Zoom.
"Hearing Humanity: Counselling and Psychotherapy as an Intimate Educational Anthropology"
by Dr. John Loewenthal from Keele University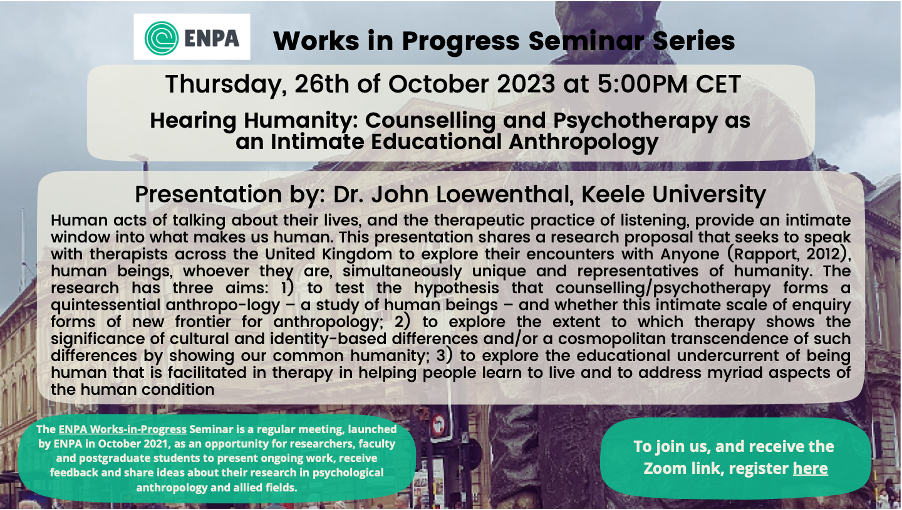 Human acts of talking about their lives, and the therapeutic practice of listening, provide an intimate window into what makes us human. This presentation shares a research proposal that seeks to speak with therapists across the United Kingdom to explore their encounters with Anyone (Rapport, 2012), human beings, whoever they are, simultaneously unique and representatives of humanity. The research has three aims: 1) to test the hypothesis that counselling/psychotherapy forms a quintessential anthropo-logy – a study of human beings – and whether this intimate scale of enquiry forms of new frontier for anthropology; 2) to explore the extent to which therapy shows the significance of cultural and identity-based differences and/or a cosmopolitan transcendence of such differences by showing our common humanity; 3) to explore the educational undercurrent of being human that is facilitated in therapy in helping people learn to live and to address myriad aspects of the human condition.
The ENPA Works-in-Progress Seminar is a venue for researchers, faculty and postgraduate students to present ongoing work, receive feedback and share ideas about their research in psychological anthropology and allied fields.
The seminar meets monthly via Zoom.
To join ENPA WiPS and receive the link for the seminar, please register here.